Around these parts it's been Halloween for a few weeks already. As with all gifting businesses we are always a couple of months ahead of ourselves if not about 9 or 10 months. We have been making new Christmas Gifts since around February or March time this year – yikes!
But back to Halloween – muahahaha! Halloween is thought to have originated with the ancient Celtic festival of Samhain, when people would light bonfires and wear costumes to ward off roaming ghosts. Sounds a bit scary to me.
All things Halloween certainly do not have to be scary though, they can also be pretty darn cool. Here at the Scamp studios we have decided to create what our dream, non-scary, version of a kids Halloween party would be and this is how it looks.
First things first is obviously what to wear - well you can't go wrong with either of these little numbers.
One of our very own Scamp Halloween 'No Tricks only Treats' babygrow. Get your baby to rock up in his or her moses basket with this little number on and I would pretty much guarantee that they will receive all the treats in the shape of hugs and squeezes.
Or what about this smily, fun and not at all scary personalised little monster outfit by Sparks Clothing. We all know babies can be little monsters so let's not beat around the bush and just say it as it is!
And really what is an outfit without accessories?
Firstly we work from the top. Check out this very cool and intricate Incy Wincy Spider hairclip brought to you by Candy Bows.
and then to the bottom. Personalised Googly eyes shoes by Born Bespoke in ghoulish green have got to be THE finishing touch to these outfits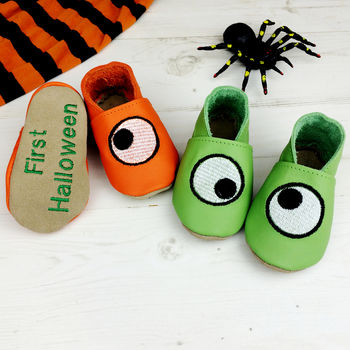 And what about accessories for the big kids coming to the party I hear you shout. Well we've got that covered too. Scamp studios are in love with Hobbynoo's nail transfers
but if you fancy just being a plain weirdo lurking in the sidelines of the party this mug from A few home truths will do just the trick!!
Finally, we need to decorate this party of ours so we have opted for a multi purpose Auntie Mims personalised decoration which would be hung around the room and then given to each person at the end. There is a choice of spooky ghosts, pumpkins and bats. You gotta love a bat at Hallowe'en.
'
'
And that concludes our dream Halloween party. So much Halloween goodness out there that doesn't fall into the scary but the pretty darn cool category! Enjoy and stay safe.